They are Raised on Pasture in a Stress Free Environment & Handled Humanely Throughout All Life Stages.
A Variety of Cuts:
We process a very limited number of steers and offer the following cuts of beef:
Filet
New York Strip
Rib Eye
Sirloin Steak
Flank Steak
Skirt Steak

Brisket
Sirloin Tip Roast
Chuck Roast
Cube Steaks
Beef Shanks
Ground Beef
Short Ribs

Stew Beef
Oxtail
Tongue
Heart
Liver
Suet
Bones
(availability varies with demand)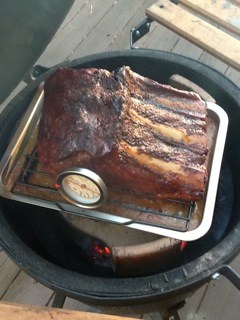 Our Beef is Dry Aged:
Mountain Valley Farm is very proud to offer dry aged beef. Dry aging involves hanging the beef in a cooler for several weeks near freezing temperature to allow moisture to evaporate from the muscle. This concentrates and saturates the beef flavor and allows the natural beef enzymes to help break down the connective tissue making the beef more tender.
Only high grades of beef can be dry aged as the process requires an evenly distributed fat content - someing that is inherent in grass fed beef.
You rarely find aged beef outside of high end steak houses or upscale butcher shops.
Cooking:
Grass fed and finished beef has a very different texture from feed-lot beef. The meat is denser and has less fat running through it - therefore it cooks much faster and is more sensitve to cooking temperatures. As a general rule cook at a lower temperature and shoot for a more rare result - it is much easier to overcook. You may also have to add oil to your cooking method to keep it from sticking and / or burning.